Virtual event explores green health care innovation and research
Public event hosted by hospital, ROMP and local municipalities, highlights changes made at Collingwood hospital and innovations to come that would reduce waste and make health care more environmentally friendly
A green lens in Collingwood operating rooms has coloured the theme for an upcoming event celebrating and sharing health-care research and innovation with the public. 
The seventh-annual Georgian Bay Healthcare Wellness Research and Innovation Day happening later this week will follow the theme of green health care.  Local municipal governments and health care organizations have collaborated to host the virtual event on June 9.
"The green health-care movement is starting, and some would say we're getting on at the beginning of that run," said Dr. Michael Lisi, a surgeon and the chief of staff at the Collingwood General and Marine Hospital (CGMH), and the MC for the virtual event.
Lisi said the theme of green health care came from hospital staff, in particular a "physician champion" of the cause: Dr. David Ohrling. 
Ohrling is also an active member of the Collingwood Climate Action Team. 
"He's been practising green health care initiatives before they were popular, and so he is our change agent, I would say," said Lisi. 
There's also work being done by provincial, national, and bi-national groups representing surgeons, anaesthesiologists, and physicians toward greener health care, so Lisi said the Collingwood hospital staff has been prompted to get to "the forefront of that movement." 
"Provincial working groups have formed a 'cut the carbon campaign,' which CGMH is a part of, and we look at collaborative efforts throughout the province to reduce waste, and a lot of that work is focused in the operating room setting," said Lisi. "We want to be in front of it, not behind it."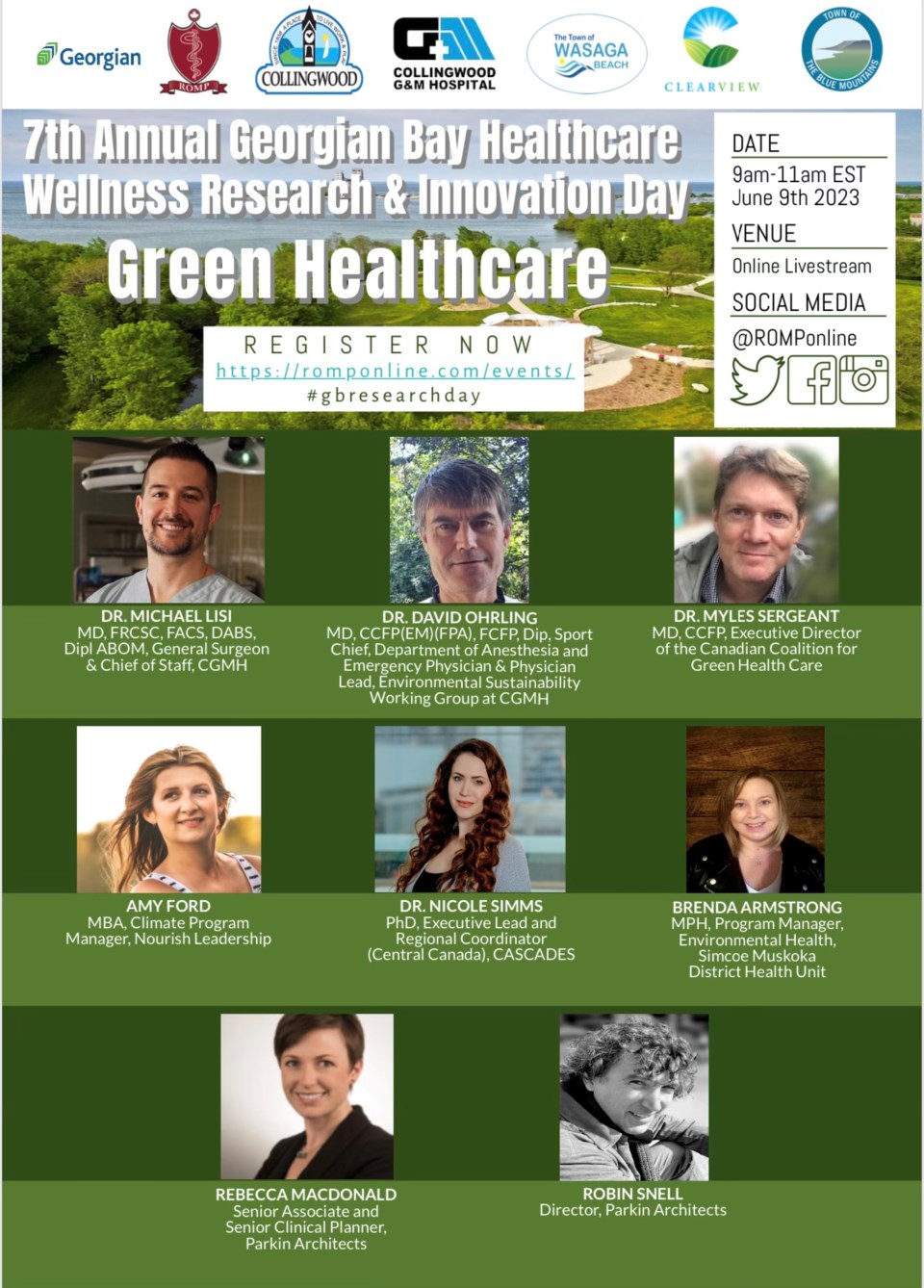 For example, CGMH has switched to a different anaesthetic gas product from one that is made using harmful environmental processes to one that is more environmentally friendly. 
Another simple switch has been asking patients to bring their own reusable bag to keep their clothing and belongings in, instead of providing a plastic bag to the patients. 
There's also work with suppliers to make sure surgery kits include only what is necessary and used, and not extra waste. 
"Our focus is still always quality of care … that's first and foremost," said Lisi. "But that's not affected … by some of these simple changes that are good for the planet, and also have an added benefit, most of the time, of reducing costs."
Lisi said there are more opportunities for the local hospital and other healthcare settings to improve the environmental impact and reduce the carbon footprint. Many of those ideas will be presented during the upcoming research and innovation day. 
Though the goal of applying a green lens to health care might bring innovation that cuts down on waste and energy usage, Lisi said it's also possible it could help improve a patient's experience and/or the treatment they receive. 
"If you look at what's the definition of innovation, it's a new method, it's a new idea, a new product. It's not always something that's shiny and new, but it also could be a process," said Lisi. "And so by modifying our behaviours and our processes, and by putting on a green lens, we have the ability to affect change that will result in improved outcomes for our planet as well as cost-effectiveness and improve pathways for patients." 
The seventh-annual Georgian Bay Healthcare Wellness Research and Innovation Day takes place on Friday, June 9. It's a virtual event running from 9 a.m. to 11 a.m. and is open to the public. Pre-registration is required via the Eventbrite website here, but there is no charge to attend. 
"These days are fantastic because we have excellent, top-level speakers who are leaders in their field … and a diversity of topics," said Lisi. 
The event also features research summaries and storyboards of what people in the community are doing in the health-care innovation field. Those can be submitted by June 9 to [email protected].
The research and innovation day is a joint collaboration between Collingwood General and Marine Hospital, the Rural Ontario Medical Program, the Town of Collingwood, Town of The Blue Mountains, Wasaga Beach, Clearview Township, and Georgian College. 
The speaker lineup for the research and innovation day is as follows: 
Dr. David Ohrling is an emergency medicine physician and chief of the department of anesthesia. In addition to his clinical duties, Dr. Ohrling is the physician lead for CGMH's environmental sustainability working group. His talk is entitled "No time to waste: a circular approach to greening the operating room."

Dr. Nicole Simms is the CASCADES' executive lead as well as training and educational lead. She seeks to deliver interdisciplinary learning opportunities that build pan-Canadian capacity to provide low-carbon, high-quality care through a variety of educational offerings developed in collaboration with health partners.

Dr. Myles Sergeant: Recognizing the intersection between environmental issues and health, he is dedicated to addressing climate change issues and has co- founded Partnerships for Environmental Action by Clinicians and Communities for Health care facilities. His talk is entitled: "How to make your hospital environmentally sustainable."

Amy Ford is the climate program manager at Nourish Leadership, leveraging the power of food to improve the health of people, communities, and the planet. She has spent over nine years leading large hospital food and nutrition teams through major changes and improvements. Her talk is called: "Reducing the climate impact of hospital food through planetary health menus."

Brenda Armstrong: Brenda is a public health professional with over 20 years of experience. She currently with the Simcoe Muskoka District Health Unit as program manager of environmental health. She has a master's degree in public health from the University of Waterloo. Brenda provides leadership in key public health activities to promote climate change health and healthy, equitable communities. Her talk is called: "Health in a changing climate."

Rebecca Macdonald is a senior associate and senior clinical planner at Parkin Architects. She is the lead of Parkin Design Excellence Group, and an advocate for both evidence-based design and Parkin sustainability initiatives.

Robin Snell is the director at Parkin Architects. He has extensive experience with a wide range of healthcare projects across Canada from master planning studies to the implementation of projects including private, public partnerships. Macdonald and Snell will be giving a presentation about the many paths to low-carbon health-care facilities. 
After the presentations from the speakers, there will be opportunity for participant to ask them questions, and hear their answers live on the steam.

link