The UBC Faculty of Medicine celebrates 20 years of midwifery education
Midwifery student Annie Nguyen
From trailblazing beginnings, the Midwifery program has grown to meet the diverse needs of pregnant people in B.C.
It all happened so fast.
When UBC Faculty of Medicine midwifery student Annie Nguyen received word that the patient she was supporting had gone into labour, she rushed to Chilliwack General Hospital.
"I literally ran. I was so excited that I forgot to pay for parking," Annie remembers.
She arrived in time to help her preceptor, clinical instructor Winifred Angus, assist with the birth of a healthy baby boy and settle him with his mother for their first skin-to-skin bonding moment.
"To be there and have the opportunity to help was so special and humbling."
Even more humbling, Annie says, was being part of the mother and baby's larger birth journey. After the birth, she visited them at home to discuss care and feeding, answer questions, and address any concerns.
"You build these relationships and they're so important. Midwifery is about creating a space of trust for pregnant people and providing relevant, objective information — so they can figure out what works for them and have the birth experience that best suits their needs, while feeling supported in their choices," she says.
Today, midwives and midwifery students like Annie attend more than a quarter of all births in British Columbia — the highest rate in Canada — with more families than ever before choosing the compassionate, culturally safe care that midwifery offers. In some places, such as Fraser Health and Vancouver Island, midwives attend more than 30% of all births.
This is thanks in no small part to the Faculty of Medicine's Midwifery program, which celebrated its 20th anniversary this November. The program launched in 2002 with the goal of making care more accessible and responsive to the diverse needs of pregnant people across B.C.
"Over the past two decades, UBC has graduated more than 200 midwives and provided continuing professional development opportunities for many more. They now practice across the province in regional, rural and remote communities," says Dr. Cecilia Jevitt, Midwifery program director and an associate professor in the Department of Family Practice.
Dr. Robert Petrella, head of the Department of Family Practice, agrees.
"Midwifery is a vital part of the Department of Family Practice, the Faculty of Medicine and the healthcare system in B.C. Through its excellence in teaching, research, and care, the Midwifery program empowers lifelong learners to meet the evolving needs of our communities, in close collaboration with doctors, nurses, and other medical professionals in primary care," he says.
"The future is exciting — it will be driven by the next generation of UBC-trained midwives."
From early advocacy to essential health service
In many ways, the story of midwifery at UBC parallels the story of midwifery in British Columbia.
In 1998, B.C. became only the second province in Canada to recognize and regulate midwifery as a health profession, thanks to the advocacy of people like professor emerita Dr. Elaine Carty. She and some of the other healthcare workers who laid the groundwork for this recognition went on to build the program at UBC — the first in Western Canada and only the second English-language program in the country, with Dr. Carty as its founding director.
"It's no exaggeration to say that the introduction of the UBC Midwifery program changed the landscape of what it meant to be able to train as a midwife in Canada," explains Allison Campbell, an associate professor and undergraduate program lead. "Until then, you had to move across the country to Ontario. That was a huge barrier. Having a program at UBC made it possible to train closer to home, and ultimately grow the profession in this province."
Campbell was part of the first cohort of Bachelor of Midwifery (BMw) students, and recalls the excitement of the program's early days: "There were students in their 20s, 30s, 40s. A lot of us had been waiting a long time for the opportunity to study and practice midwifery in B.C. We were very keen to get out into the world and make a difference."
---
200+
graduates from UBC's Bachelor of Midwifery degree program since 2002
12,000+
births assisted by midwives in B.C. in 2020/21
27%
of births in B.C. assisted by midwives, the highest proportion in Canada
---
In its first decade, the Midwifery program graduated 10 midwives each year. The new grads quickly began to set up practice and integrate their work into the fabric of their communities, bringing midwifery to pregnant people in B.C. — for the first time, in many cases.
Demand grew quickly. In 2012, the B.C. government supported the doubling of the size of the BMw cohort, with UBC admitting 20 students each year. That number increased to 24 in September 2022. Students have the option to study in Vancouver, Victoria, or online via the Distributed Option in Midwifery Education (DOME), which makes it easier for them to learn, train, and ultimately establish themselves in their home communities. The Midwifery program also orients a number of internationally educated midwives each year, who then qualify for practice in B.C.
"It's no exaggeration to say that the launch of the UBC Midwifery program changed the landscape of what it meant to be able to train as a midwife in Canada."
— Alison Campbell
Associate professor of Midwifery
Midwifery Continuing Professional Development (CPD), meanwhile, gives thousands of professional midwives the opportunity to upgrade their skills each year in everything from providing emergency and gender-affirming perinatal care to assisting in surgery.
But the Midwifery program hasn't just grown. It has evolved — and continues to evolve.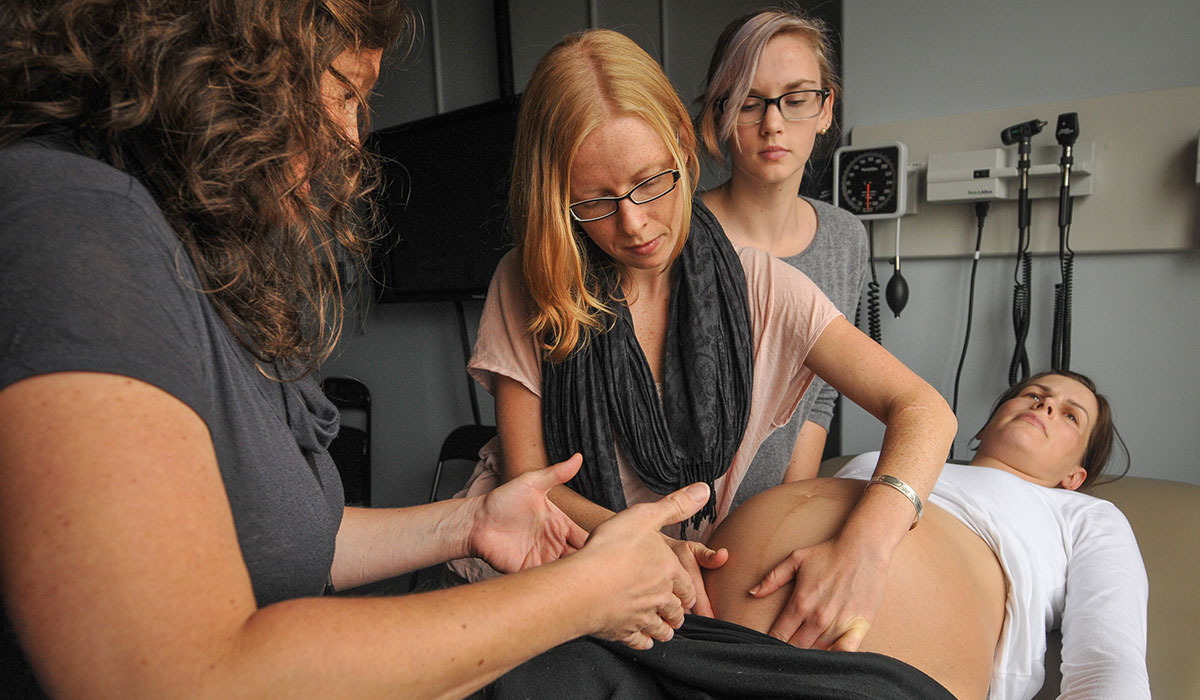 UBC Midwifery students learn palpation skills during clinical skills intensives at BC Women's Hospital.
Culturally safe, trauma-informed care
For Annie, it was witnessing her own mother's experience with pregnancy and childbirth that inspired her to train as a midwife. Annie was six when her sister was born, and she watched her mom, who is originally from Vietnam, struggle to voice her concerns with healthcare workers.
"I was too young to be an advocate for her, but old enough to see that my mom wasn't being listened to. She felt pressured into having a C-section, and that led to a traumatic experience which eventually snowballed into a general distrust of the healthcare system," she says.
Research shows that midwifery care has a positive impact on birth outcomes for all pregnant people, but it can be especially important⁠ for pregnant people from racialized and other vulnerable communities.
"Midwives provide the best support when they have the ability to meet clients where they're at. For UBC, this means training midwives to provide culturally safe, trauma-informed care, and it means training more midwives who are Indigenous, Black, and from other diverse backgrounds," Campbell says.
In recent years, the Midwifery program has updated its curriculum to reflect the core cultural competencies identified by the National Aboriginal Council of Midwives. It has also increased the number of spots reserved for Indigenous students, and appointed an Indigenous Midwifery Coordinator to support the students and cultural learning experiences.
The Faculty's Internationally Educated Midwives Bridging Program, meanwhile, helps midwives from other parts of the world to transfer their credentials, upgrade their skills, and practice in B.C. Launched in 2015, it is the only current initiative of its kind in Canada.
"The Bridging program attracts dedicated professionals who want to live and work in B.C. but who might otherwise be discouraged to try without a clear and accessible pathway," Campbell explains. "They bring with them diverse experiences, perspectives, and cultural competencies that benefit an increasingly diverse population in the province."
"Midwifery is about creating a space of trust for pregnant people and providing relevant, objective information — so they can figure out what works for them and have the birth experience that best suits their needs."
— Annie Nguyen
Midwifery student
These initiatives are an important step for the program and for the future of the profession in the province, but the goal, Jevitt says, is to continue to evolve.
"Midwives are always learning and changing their practice to better meet the needs of the people they care for. The Midwifery program is no different. As we enter our third decade, we are growing and evolving to better meet the needs of our learners and, ultimately, transform health for pregnant people across the province."
It's this approach that drew Annie Nguyen to the program.
"I want to become the kind of care provider that my mom would have wanted. Someone who has the skills and perspective to understand and make a difference," she says.
After graduation, Annie plans to work with underprivileged clients and hopes to one day open a birth center.
"That would be amazing."
---
Share this Story
Published: November 30, 2022

link