Patient care will worsen in Durham Region hospitals unless Ford government reverses course on staffing and capacity issues, says new report on province's hospital crisis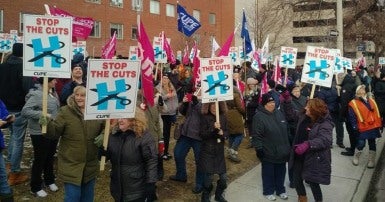 Durham Region hospitals must increase staffing and capacity by 22 per cent each to meet patient needs, in sharp contrast to the government's insufficient plan: OCHU/CUPE
The crisis in the province's hospital sector will only worsen over the next four years, unless Ontario makes significant investments to improve staffing levels and capacity, warns a new report released today by CUPE's Ontario Council of Hospital Unions (OCHU/CUPE).
Citing the latest available data, The Hospital Crisis: No Capacity, No Plan, No End estimates that the province must improve staffing levels and bed capacity by 22 per cent each to meaningfully address patient needs over the next four years. In Durham Region, that equates to 1,366 additional staff and 247 more beds.
However, based on the Ford government's current trajectory and plans, staffing and capacity across Ontario will grow by less than one per cent each annually over the same duration.
"We are very concerned about the growing crisis in our public hospitals, which is deeply harmful for both workers and patients. Unfortunately, the government's plan is completely inadequate to meet the needs of a growing and aging population," says Michael Hurley, the president of OCHU/CUPE, which represents 40,000 hospital workers across the province. "At this rate, we are heading towards a much deeper crisis."
OCHU/CUPE cites recent Stats Canada data showing hospital staffing levels have only increased by 0.4 per cent annually since 2020, despite patient needs necessitating a corresponding increase of 5.2 per cent annually.
Consequently, staff have been saddled with heavy workloads, which combined with wage suppression, have led to high turnover as evidenced by vacancy rates in the first quarter of 2023 increasing by about 300 per cent since 2015. 
"The ongoing retention and recruitment challenges will only worsen if the government fails to address working conditions and compensation," Hurley says. "We need to lure back the thousands of staff who have left the sector, and train tens of thousands more nurses, PSWs and other health care workers to rebuild our hospital system."
Ontario has 38 per cent less inpatient staffing in hospitals compared to the Canadian average. If Ontario's staffing reached the same level as the rest of the country, it would have 33,778 more full-time staff including inpatient workers and support staff.
Improving staffing levels would also help address capacity issue in Ontario's hospitals. Since 2022, there have been more than 145 emergency room closures due to staffing shortages with no sign of abatement in 2023.
However, the problem goes beyond staffing shortages as Ontario's hospital capacity has sharply declined over the past three decades. According to the most recent CIHI data, Canada as a whole has 7.7 per cent more hospital beds per capita than Ontario. The result is very high hospital bed occupancy, cancelled surgeries, and patients being treated via hallway healthcare.
According to CUPE, the government's plan to grow capacity by 3,000 beds over the next 10 years falls well short of what is needed. That would achieve only a 0.79 per cent annual increase even as the government itself projects an annual 1.5 per cent population growth rate over the next decade.
"Compounding the problem is the fact that health care needs are sensitive to age," Hurley says. The population of people aged 65 and over is growing at twice the rate of the rest of Ontario's population and they are the ones who tend to use hospitals the most.
While the most recent government budget has greatly expanded funding for long-term care and home care (both predominantly for-profit), the FAO's projections indicate no significant improvement in these subsectors that would help take pressure off hospitals.
"Ontarians trying to access hospital care have suffered immensely in the past three years as evidenced by unprecedented ER closures, cancelled surgeries, and a peak in hallway healthcare. It's clear that this government has no real plan to provide people the quality of care they need."
link