Maternity wards in Australian hospitals discharging mums, babies in record time after childbirth
Fisher, who works as a clinical psychologist at an early parenting centre at Melbourne private hospital Masada, said many of the women admitted to the centre attributed their struggles, depression and anxiety to an early postnatal discharge.
Loading
"When there was a longer admission, they learnt more about breastfeeding, how to establish a routine of care and settle a baby," she said.
Caroline Homer, an emeritus professor of midwifery at the University of Technology Sydney and deputy director of the Burnet Institute, said it was not feasible or necessary for hospitals to accommodate women and babies for long periods of time.
She said a quick discharge was fine if women had good support services at home, such as regular visits from a midwife – but such services were "patchy".
In Australia, women might receive two visits from a midwife before care is transferred to a maternal child health nurse. Homer said that in the UK there was a statutory requirement for women to receive home midwifery care for six weeks.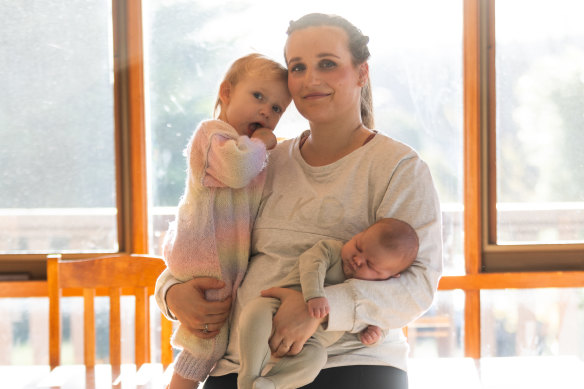 "We have to do a lot more because it is such a critical time," Homer said. "Those early weeks are so important for attachment, for breastfeeding, for recovery and starting off parenthood."
While many women say they'd like to stay in hospital for longer after they give birth, Homer said many were also eager to return to home quickly.
Lauren Cherubin was discharged from a Melbourne hospital six hours after her youngest daughter Cora was born six weeks ago. She asked her midwives if she could stay for longer, but was told this wouldn't be possible unless she had a good reason.
"There was no option for recovery time," she said, pointing out that when she returned home she also had to care for her almost two-year-old daughter Freya.
The mother-of-two works at a hospital and is aware of the push to discharge patients to free up beds. She said while her birth was a positive experience and she could not fault the care she received, she was disappointed about her speedy discharge.
Cherubin said the home visits she received from a midwife were no substitute for hospital care.
"They are really good for the baby, but you don't feel like you get taken care of. You feel like they have to get back on the road and you feel a bit rushed."
Loading
An experienced midwife, who did not want to be identified because it could jeopardise her employment at a major public hospital, said there was immense pressure to get women and babies out the door after birth to free up beds and staff.
She said while many women were fine when they returned home, others struggled. She said some babies were readmitted to hospital because they were feeding poorly and had lost too much weight. "Previously we would have picked up on these things during a longer hospital stay," she said.
For the first time, the Australian government is funding the development of a set of national guidelines that will detail recommendations for postnatal care including length of stay, timing of discharge and home support.
Amanda Blair, a PhD candidate at the Burnet Institute who has been reviewing 31 existing postnatal guidelines followed by Australian hospitals, said none explicitly considered the WHO's recommendation that mothers and babies spend at least 24 hours in hospital after an uncomplicated vaginal birth.
Loading
"Everything is shorter than what I'd like to see," she said. "There is so much that needs to happen in those first few days: you want to pick up minor complications and then there is education for first-time parents on how to look after the newborn and the mum."
The Australian College of Midwives' chief midwife Alison Weatherstone said it was important that women had a choice with all aspects of their maternity care.
"When it comes to discharge, it shouldn't be a matter of being told you're ready to go. It should be a conversation with the woman to prepare for discharge from the facility," Weatherstone said.
But she said home was the most appropriate place for a mother and baby to heal and bond after birth.
Women's Healthcare Australasia, the peak body representing hospitals
that provide maternity and women's healthcare services, was contacted for comment.
The Morning Edition newsletter is our guide to the day's most important and interesting stories, analysis and insights. Sign up here.
link