Hospital workers rally across Toronto against Ford government privatization scheme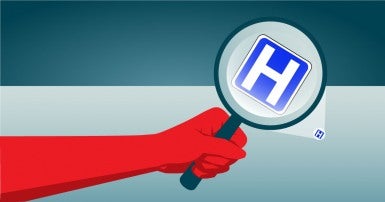 Workers from hospitals across Toronto held a series of rallies today outside St. Joseph's Health Centre, St. Michael's Hospital, and Providence Healthcare to speak out against the Ford government's plan to privatize hospital services. Healthcare workers from the three sites, which are operated by Unity Health Toronto, included nurses, personal support workers, laboratory technologists, health care aides, cleaners, clerical staff, and many more.
The unionized healthcare workers, represented by the Ontario Nurses' Association, CUPE's Ontario Council of Hospital Unions, and Unifor, unveiled a large petition signed by over 4,000 hospital staff – a majority of healthcare workers from the three hospitals. The petition called for a firm commitment from Unity Health Toronto Chief Executive Officer Dr. Tim Ruttledge to take a stand against Bill 60, the recently-passed Conservative legislation to contract out surgeries and diagnostic procedures to private clinics.
The rallies began at Providence Healthcare before moving on to St. Joseph's Health Centre and then St. Michael's Hospital. Frontline workers and provincial union leaders delivered passionate speeches, speaking to the detrimental consequences that Bill 60 will have on Ontario's public hospital system. The workers warn that funneling public tax dollars from the underfunded public health system into private, for-profit clinics – where surgeries and diagnostic services cost significantly more – will further weaken Ontario's public system, making healthcare less accessible, wait times longer, and staffing shortages even more severe.
"The thousands of hospital workers in Toronto and other parts of Ontario pushing back against privatization speaks volumes about the state of health care in this province.  Our public hospitals are facing a crisis that can only be fixed by investments in staffing that improve working conditions and patient care. The government must listen to front-line workers and not its donors and lobbyists seeking to profit off public funds," said Dave Verch, Registered Practical Nurse and First Vice-President of OCHU/CUPE.
This is the fifth instance of such rallies held across the province by a coalition of Ontario's five largest healthcare unions, which also includes the Ontario Public Service Employees Union and Service Employees International Union. The unions have all launched campaigns at community hospitals to call for investments in the public system toward higher staffing levels and a meaningful recruitment and retention strategy, in order to improve patient care, wait times and surgical backlogs.
Quotes
"Ontario Nurses' Association members and leaders believe that healthcare should be equitable and accessible to everyone, not just those who can afford to pay. We are fighting to stop our provincial government from handing healthcare tax dollars to private clinics and corporate profits while starving our public healthcare. We have invited our hospital CEOs to work with us to maximize services in our publicly owned and publicly funded system, and the ball remains in their court. Ontario nurses and healthcare leaders will not accept the privatization of our healthcare system and do not believe our hospital leaders should either."
Erin Ariss, Registered Nurse and Ontario Nurses' Association (ONA) provincial president.
"Our public healthcare system has incredible experts and infrastructure to care for Ontarians. This government is choosing to let it crumble while sitting on billions of dollars in unspent public funds, instead of investing in public healthcare and paying workers decent wages. Privatizing hospital services to for-profit clinics only benefits the wealthy; it drains the public system of even more funding in favor of private profits and worsens wait times and patient care. Patients' lives are not for profit, and we will not stop fighting to protect public healthcare!"
JP Hornick, Ontario Public Service Employees Union (OPSEU/SEFPO) President
"The solution isn't rocket science: Better pay to retain more frontline staff. That's how we reduce hospital wait times and create safe healthcare jobs. Our tax dollars should go to staffing frontline care, not the pockets of Doug Ford's wealthy donors who want to defund our public hospitals."
Jackie Walker, Service Employees International Union (SEIU) Healthcare Nursing Division President
"By funnelling public tax dollars into private, for-profit clinics, the government is putting profits before people's health. This will only exacerbate the existing challenges in our healthcare system, including long wait times and staffing shortages. We are already stretched thin, and this privatization scheme will only make things worse. Today's rallies sent a strong message to Unity Health CEO Dr. Tim Ruttledge and the Ford government that we will not stand idly by as they push forward with their privatization agenda. The healthcare workers of Unity Health Toronto are united in our opposition to Bill 60 and the contracting out of surgeries and diagnostic procedures to private clinics. Our patients deserve high-quality care in a publicly funded system, and we will fight to protect our public hospitals from being dismantled piece by piece."
Kelle Janzen, Unifor Health Care Director
link